Understanding the Technology Hype Cycle
September 20, 2012
See on Scoop.it – Technology and Society: The Big Questions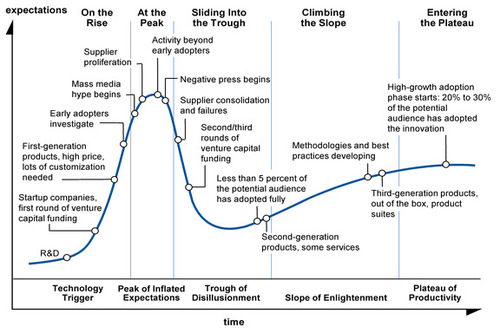 There are situations in your work life where you are in a meeting – your boss will always talk about cutting-edge technologies and throw in few technology jargons like Cloud Computing, Social Media etc and will stress about how the company need to build competency in areas surrounding that.
But the question is how does your boss get to know about these upcoming trends and start pushing the organisation in a direction so as to plan and leverage these technology in business?
That is where companies like Gartner come into picture with their technology and consulting skills. Gartner's Hype Cycle is basically an analysis and detailed study of how new technologies are emerging – its evolution, how it gains acceptance from early adopters,progress through various ups and down before gaining mass adoption and be accepted widely .
Every year Gartner releases this hype cycle and this is useful for business to do strategic planning in their respective fields. You can have look at the various fields across which the hype cycle is prepared every time. These analysis and reports are not free and generally corporates subscribe to these reports and have exclusive access to understand what's emerging and what is to remain as damp squib . Understanding where a technology actually stands in the hype cycle will help business to pick up technologies quickly and get the early mover advantage.
Continue Reading…
See on socialmediatoday.com